Laundry Renovations in Sydney
When it comes to home renovations projects, the areas that home owners tend to focus on are the living room and bedroom. Even the bathrooms and kitchens may be included in this project. However, the one area that tends to get completely side-lined is the laundry space. This is more of a utility area that sees a lot of rough use. This means it also wears and starts looking dull much faster too. We at Precision Bathroom Renovations in Sydney have been operating in this space for over 20 years now. In this time, we have tackled big and small laundry design and install projects for a large number of residential customers across the region.
High grade solutions
Many home owners wonder whether and why design and planning are important in laundry renovations in Sydney; the fact is that these spaces need as much planning as any other room in your house does. While some homes have large laundry areas, others only have nooks allocated as laundry spaces. Regardless of the size of the area that you have, we can help make it more functional and attractive. We know what it takes to design and install spaces that will be easy to maintain and ones that will last for a long time too. While we are highly focused on quality, we also ensure that the movement flow in these spaces is improved and that there is plenty of smart storage as well. This is what adds to the functionality of the space.
Area We served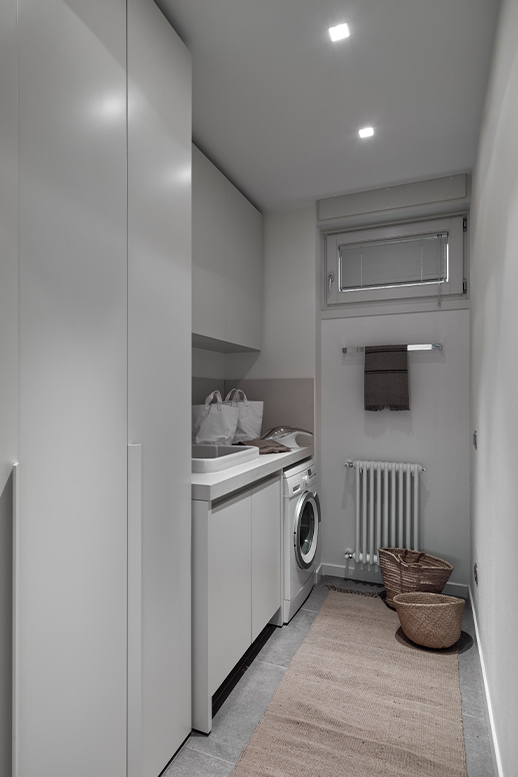 In most instances, the tiling in Sydney projects we handle are part of larger bathroom, kitchen or laundry renovation project. However, we also handle tiling upgrade projects as well. Regardless of the scale of the job, we adopt a very detailed and meticulous approach to our work. We first understand what your specific requirements are and take measurements of the area/s that have to be tiled. We provide you various tile samples for you to choose from. We also provide advice about the type of tiles that can be used and the colours, textures and designs that will match the rest of the features in the space. Once you have approved the tiling samples and the quote, we start and complete the job within the stipulated timeframe.
Design
We sit down with you to discuss your ideas and draw up a design you'll love.
Build
We begin renovating your new bathroom with top quality materials.
Finalise
We check with you to ensure that you are 100% satisfied with the end result.

Why Customers Opt For Our Services
Depending on the scale of the job, most jobs are completed within less than a week. If the tiling in Sydney is part of a larger bathroom, kitchen or laundry space renovation project, it will be completed within 2-3 weeks. We have on-site supervisors who ensure that all the work progresses as planned. For more information about our tiling in Sydney solutions as well as kitchen and laundry renovations, call Precision Bathroom Renovations and speak with our experts about what your requirements are for these spaces. You can find detailed information about our laundry, kitchen and bathroom renovations on our site too.

Quality Bathroom
Fittings

Customised Bathroom
Design & Style

Competitive Pricing To
Suit your Budget

Fully licensed and insured with
over 15+ years' experience

100% committed to
our clients
How long will my laundry renovation take to be completed?
The time frame for laundry renovations in Sydney varies from project to project. It depends upon several factors such as the amount of work, layout changes, renovation plan, fixtures, renovation supplies and much more. However, Precision Bathroom Renovations has a track record of completing laundry renovations in Sydney within 15 days.
How much does a laundry renovation cost?
The cost of laundry renovations in Sydney varies depending upon the amount of work and brief from the client. You can consult our team of expert laundry renovators to discuss your project details and provide you with a detailed quotation for it.
What is the time-frame of a renovation?
The tentative time frame required to complete a laundry renovation project in Sydney is usually 15 days. However, this is just a speculated time and it can vary depending upon the renovation plan and approval from the client.
What areas do you service?
We provide our professional services for laundry renovation in Sydney and all the major areas of Australia including St. George, Eastern Suburbs, CBD, Inner West, North Shore and much more.
Does the client need to be home during the renovation? What can and what can't you do during the renovation?
No, it is not necessary for the client to be at home while we commence our laundry renovation work. Our teams of experts are highly trained and have immense knowledge of the field. They prefer to work without any disruptions as well as make sure to give the regular report to the client concerning the progress of the work, approvals on the fixtures, tiles, renovation plan and much more. We believe in keeping our clients fully informed regarding renovation work status.
Do you have all the relevant insurances?
Yes, we have all the necessary insurances as prescribed by the Australian regulatory body. Precision Bathroom Renovations is compliant with all industry regulations and protocols.