Bathroom Waterproofing Services in Sydney
Bathroom, Kitchen and laundry spaces have to be designed and planned in detail. These rooms see a lot of wear and tear as they are high use and high traffic areas in any home. In addition, they have to withstand moisture, water and steam; kitchens have to deal with grease and cooking fumes as well. Its also why most people prefer to opt for tiles on the wall and floors of these spaces, which is definitely a smart choice. However, its important that the entire bathroom or kitchen floor be waterproofed well first. This becomes the base on which the tiles will be installed.
When is waterproofing required?
Waterproofing in Sydney prevents any water from leaking into the ground slab underneath the tiles. In case the bathrooms are on upper floors, the right kind of waterproofing can prevent water seepage into the lower floor ceilings and walls of the house. We at Precision Bathroom Renovations are one of the leading operators in this space. We have over 20 years of experience in this industry and have handled a large number of waterproofing in Sydney projects for residential customers across the region. In most instances, this is part of a larger bathroom or kitchen renovation project. However, there are times when customers face issues with water seepage from the bathrooms, into the other rooms in the house. In this case, waterproofing and the tiling installation for that space become a standalone project.
Area We served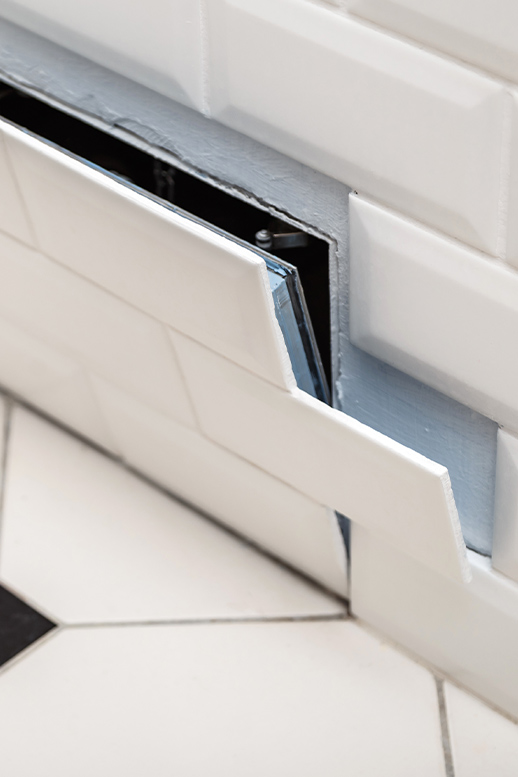 In most instances, the tiling in Sydney projects we handle are part of larger bathroom, kitchen or laundry renovation project. However, we also handle tiling upgrade projects as well. Regardless of the scale of the job, we adopt a very detailed and meticulous approach to our work. We first understand what your specific requirements are and take measurements of the area/s that have to be tiled. We provide you various tile samples for you to choose from. We also provide advice about the type of tiles that can be used and the colours, textures and designs that will match the rest of the features in the space. Once you have approved the tiling samples and the quote, we start and complete the job within the stipulated timeframe.
Design
We sit down with you to discuss your ideas and draw up a design you'll love.
Build
We begin renovating your new bathroom with top quality materials.
Finalise
We check with you to ensure that you are 100% satisfied with the end result.

Why Customers Opt For Our Services
Depending on the scale of the job, most jobs are completed within less than a week. If the tiling in Sydney is part of a larger bathroom, kitchen or laundry space renovation project, it will be completed within 2-3 weeks. We have on-site supervisors who ensure that all the work progresses as planned. For more information about our tiling in Sydney solutions as well as kitchen and laundry renovations, call Precision Bathroom Renovations and speak with our experts about what your requirements are for these spaces. You can find detailed information about our laundry, kitchen and bathroom renovations on our site too.

Quality Bathroom
Fittings

Customised Bathroom
Design & Style

Competitive Pricing To
Suit your Budget

Fully licensed and insured with
over 15+ years' experience

100% committed to
our clients
Why Do I Need to Waterproof My Bathroom?
Waterproofing is of vital importance as it prevents leakage and provides you long term peace of mind. Using optimum quality shower sealing in Sydney can help you to make your bathroom leak proof. Precision Bathroom Renovations uses some of the best and premium quality shower sealers that avert leakages in the future.
How Long Does Waterproofing Last?
Precision Bathroom Renovations uses some of the best quality shower sealers in Sydney to achieve the desired results and provide bespoke solutions for leaky showers or bathrooms. On average, our bathroom waterproofing is expected to last for around 7-10 years however it may depend upon other factors such as structural integrity, membranes used, regular wear and tear etc.
Can you detect water leaks in my pool and do water leak repairs?
Yes, we can detect the possible areas of water leaks and initiate the sealing process of the same. Our team of experts has immense knowledge of the industry. They strive to provide suitable waterproofing solutions that help to prevent leakages and help to seal cracks too.
How long will my waterproofing last?
The waterproofing generally lasts for more than 7-10 years. This depends upon the type of shower sealing in Sydney used for the bathroom renovation project, number of cracks, leakage areas and much more. Precision Bathroom Renovations are the experts in this field and use the best quality shower sealing in Sydney to achieve the desired waterproofing.
How much does it cost to fix a leaking shower?
A leaking shower can be easily fixed and may cost you around $590 subject to no damage or leakage from the floor or walls. If there is any leakage from the floor or walls the cost for fixing the same may increase. At precision Bathroom renovations we fix leaking showers using some of the best shower sealing in Sydney without removing tiles or damaging walls.
How long until I can use the shower again after it has been repaired?
You can use the shower again after 24 hours once it is repaired. Our team of experts and plumbers will guide you with respect to precautions to be taken to avoid damaging the repaired leaking shower.