When you are renovating your bathrooms, kitchen or laundry spaces, tiling becomes an integral part of the project. All these areas are high use ones and even though there are a number of flooring and wall cladding materials available in the market today, tiling in Sydney continues to be the preferred choice. This is because tiles are extremely low maintenance and durable material. In addition, you will find a large variety to choose from and this gives you the design flexibility you need. Tiles look good in all these spaces and they not wear like other flooring materials such as vinyl, cork or wood do. They are excellent for areas that see water, steam and moisture. When it comes to bathroom, laundry and kitchen renovations in Sydney, we at Precision Bathroom Renovations become the one company that people think about. With 20 years of solid experience behind us, we are a force to reckon with, in this space. We handle projects of every scale and never compromise on the quality of the materials or workmanship we use.
Types of projects we handle
Brick, concrete and clay
Brick, concrete and clay
Porcelain
Natural stone
Decorative tiles
Accent wall tiling
Floor and wall tiling
Indoor wall cladding
Other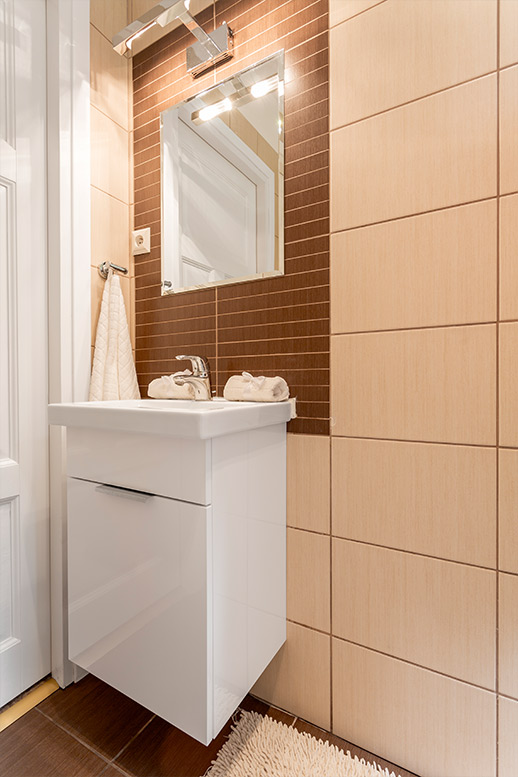 In most instances, the tiling in Sydney projects we handle are part of larger bathroom, kitchen or laundry renovation project. However, we also handle tiling upgrade projects as well. Regardless of the scale of the job, we adopt a very detailed and meticulous approach to our work. We first understand what your specific requirements are and take measurements of the area/s that have to be tiled. We provide you various tile samples for you to choose from. We also provide advice about the type of tiles that can be used and the colours, textures and designs that will match the rest of the features in the space. Once you have approved the tiling samples and the quote, we start and complete the job within the stipulated timeframe.
Design
We sit down with you to discuss your ideas and draw up a design you'll love.
Build
We begin renovating your new bathroom with top quality materials.
Finalise
We check with you to ensure that you are 100% satisfied with the end result.

Why Customers Opt For Our Services
Depending on the scale of the job, most jobs are completed within less than a week. If the tiling in Sydney is part of a larger bathroom, kitchen or laundry space renovation project, it will be completed within 2-3 weeks. We have on-site supervisors who ensure that all the work progresses as planned. For more information about our tiling in Sydney solutions as well as kitchen and laundry renovations, call Precision Bathroom Renovations and speak with our experts about what your requirements are for these spaces. You can find detailed information about our laundry, kitchen and bathroom renovations on our site too.

Quality Bathroom
Fittings

Customised Bathroom
Design & Style

Competitive Pricing To
Suit your Budget

Fully licensed and insured with
over 15+ years' experience

100% committed to
our clients
How do I know how many tiles I need?
It depends on the area to be covered by the tiles and the size of the tile you have selected. Follow the simple steps to find the number of tiles required to be installed:
Measure the height and width of the area to be tiled.
Write your measurement in millimeters.
Divide the length of the tiling area by the length of tiles.
Divide the width of your area by the width of the tiles that you have selected.
Multiply the numbers that you have calculated in step 3 and step 4. You will get the number of tiles required to be installed.
Add an extra 10% to adjust breakages, cuts, and spares.
What grout spacing do I need between tiles?
It is generally advisable to use a grout joint at least two times the average difference between the smallest tiles and the largest tiles. We normally suggest grout spacing between 3mm and 5mm for floor tiles laid in Chester Hills and no less than 1.5mm for wall tiles. Grout spacers are the best way to ensure your grout lines are even and level.
What tiles can I use in a wet area?
Porcelain, Natural Stone, or Mosaic tiles are the most suitable tiles for the wet floor area. On the other hand, we do not recommend the use of ceramic tiles on the wet floor area due to their construction and surface. Ceramic tiles provide a perfect solution for wet room walls. Our experts provide the best tile service solution for your tiling related problems and are available a phone call away in Sydney.
What tiles can I use outside?
Tiles offer an excellent surface for outdoor areas like decks and patios. The tiles are easy to maintain, durable, and more stable. There are many different types of floor tiles.
Best Outdoor Floor Tile available at Precision Bathroom Renovation at Chester Hills
Natural Stone Tiles
Granite
Marble
Slate
Limestone
Travertine
Porcelain Tiles
Wood Tiles
The outdoor tiles are exposed to heat, dust, and extreme weather so we supply the tiles with less wear and tear and with the latest style and trends
What is the difference between outside and inside tiles?
Outdoor tiles are designed to be heavy duty, strong and durable so they can withstand environmental hazards such as frost and direct sunlight. On the other hand, indoor tiles can only handle mild shocks and hits.
Generally, outdoor tiles are slip-resistant with a different texture to avoid any kind of accidents. Some special outdoor tiles have a little gritty surface that provides brilliant traction in case the surface gets wet. Outdoor tiles accumulate more dirt and require maintenance from time to time for optimum performance and safety.
What types of tiles are best for walls?
Generally, tiles labeled as wall tiles are appropriate for walls. Sometimes floor tiles laid in Chester Hills homes are also suitable for walls. The benefit of considering both options widens your choice of tiles and includes larger format tiles. You can also match floor and wall tiles to create a continuous surface and a contemporary aesthetic look. For best and end-to-end selection, our professional tile service in Sydney will guide you to choose the most appropriate tiles for your walls.